If you would like to go fishing we have boats and fishing tackle for hire, and include a fishing permit.
Watching the courting displays of blackcock from a hide early in the morning is another memorable experience on offer.

In the winter there are excellent skiing tracks, and since we are situated high up we usually have plenty of snow in the winter.

For those who like competing we arrange triathlon and pentathlon events, while for others who wish to take things a little easier there are quiz competitions both on land and water. Raft expeditions are another possibility you might enjoy.

We are able to organise courses, too, in watercolour painting, panning for gold, and dyeing with vegetable dyes.

Many of the above activities can be booked over a weekend (this applies to groups of 5 to 6 people). A weekend booking is defined as being from Friday afternoon to Sunday morning inclusive.
Please ring the telephone number +46 (0)281 32022 for information about where keys to cottages can be obtained.

There is a choice of several places where you can stay. Accommodation is of different standards and sizes.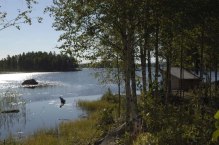 Price on youth hostel terms (i.e. shared accommodation), daily SEK 150:- per person per night


The entire cottage SEK 800:- per day and night

Guided tour of the forest, including coffee,
approximately 3 hours (minimum of 5 people) SEK 100:- per person

Hire of boat or canoe SEK 150:- per day, or SEK 100:- per half day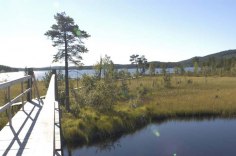 The first Finns who moved here came from eastern Finland, from an area called Savolax. They arrived in the seventeenth century, when Finland belonged to Sweden, after the king had encouraged people to colonise the inland areas of Sweden with a promise of seven years of exemption from taxes.

They came by boat over the Gulf of Bothnia to Stockholm and Gävle, but did not stay in the towns. Instead they continued farther inland to the great forest wilderness, to areas where they could carry out slash-and-burn agriculture on land suitable for clearing and reclamation. The reason for the emigration was that the inner areas of Finland had expanded in a very short time and become populated to breaking point. Farms and villages grew up everywhere in the slash-and-burn areas. This cultivation technique and the colonisation movement was now transferred from Finland to the forest areas of central Sweden.

The Finns who came to Sweden chose to build on the high land, since there one was not affected by frost in the same way as in the valleys. Usually they built on the mountainsides, preferably facing south. The cottages they lived in were called "pörten". "Pörte" = kitchen in Finnish. A pörte had no flue from the fireplace, but the smoke was allowed to remain under the roof and now and then a sliding aperture was opened to let it out. In this way people were, for the most part, free of bedbugs, which were otherwise a dreadful source of trouble at that time. The first settlements in Nås Finnmark were established around 1620.
During the early period relations between Finns and Nås parishioners were rather tense, but soon relations quietened down. The growth of the population varied, since years of crop failure and epidemics occurred fairly often. In 1665 there were 21 people living in the Finnmark, while in 1865, i.e. 200 years later, the population had risen to 572. Now the Finnmark is being depopulated once more, for reasons that are well known, e.g. the fact that all manual forestry work has disappeared.
Facts about Närssjön Development Association
In April 1999 a number of villagers gathered in Närsen village hall to listen to a lecture on starting small businesses in large forest areas, so reducing the number of people moving away from the Finnmark.
Some 15 enthusiasts from the villages round Närssjön continued to meet in a study circle once a fortnight under the auspices of Adult Education.
The circle agreed to start a project making a long-distance footpath round Närssjön based on old paths and roads.
In February 2000 the Närssjön Development Association was established with Bo Becker as chairperson. It has since then been reconstituted into an financial association and a share in the Association costs SEK 100:- per person.
With the help of Lasse Nygård from Leksand, we have succeeded in obtaining 2.7 million Swedish crowns in EU funding, and in this way have been able to employ 5 people.
Our objective is to be self sufficient and able to offer one, or perhaps two, job openings.